The Pennsbury Partners Program and the Newtown Chamber Orchestra present:
 KIDS CONNECT TO THE CLASSICS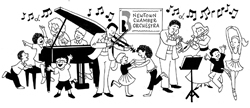 Enjoy a delightful afternoon of music with your elementary and/or pre-school age children  TBA, at the Newtown Chamber Orchestra's annual live performance, "Kids Connect to the Classics Concert." Help your children discover the beauty and enjoyment of classical music through a fun and nurturing educational experience. The length and content is sensitive to the attention span of the targeted age group.
The concert program includes: an interactive discussion through audience participation; a musical "petting zoo" which gives children the opportunity to touch and play classical instruments and percussion instruments from around the world; a take-home booklet of fun/educational materials all geared to the appropriate age level. There's even a take-home treat to eat—a Philly soft pretzel.
 Family Concert: Peter and the Wolf ~ Prokofiev
Date and Location: TBA
The Kids Connect To The Classics Concert is funded in part by:
                                                                                     Donors and advertisers who support the Newtown Chamber Orchestra